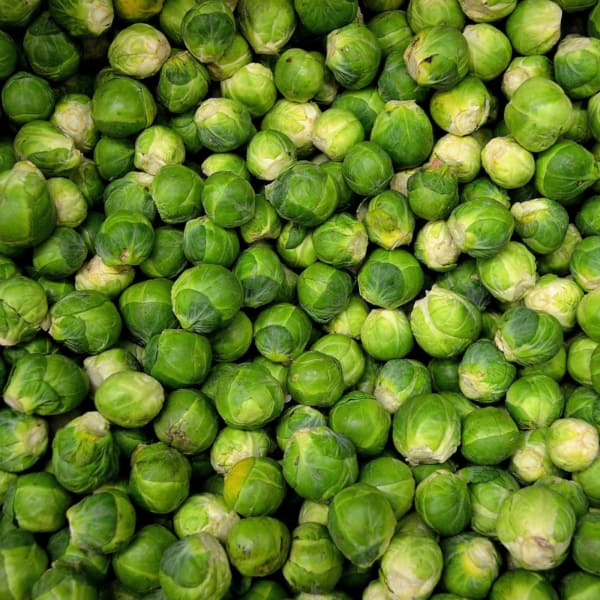 Sowing season:  February – May
Ready to harvest: 30 weeks
Brussel sprouts are a quintessential winter veg. Famous for Christmas dinner. Yet this favorite goes perfect with any Sunday dinner (or any of the other 6 days).
How to grow brussels sprouts in Ireland.
Brussel sprouts can be started indoors or outdoors. However when started in doors can be sown earlier and result in an eralier harvest.
In February fill your pot with compost and make a small impression with you finger. Put a seed into the impression and cover with fine compost. Leave 3 inches between each seed. The seeds need heat to germinate so best to place on a south-facing windowsill. Or ideally a window above a radiator, but bare in mind this can dry the seed faster, so pay close attention to this. Germination will take up to 2 weeks.
3-4 weeks after germination the seedlings will be ready to transplant outside. Make sure to leave two and a half feet between plants in each direction. This may seem like alot, but brussel sprout stalks grow quite large.
To grow outside you should wait until March. Rake your vegetable patch and make a small impression about half an inch deep. Make sure you leave 2 and a half feet between the seeds in each direction. Cover with soil and tamp the soil firmly.
After 30 weeks your sprouts are ready for harvest. Simply grab the stalk at the head and gently pull up. The root should come up with the stalk. Chop of the root system and also the head of the plant, you can put this directly into your compost heap. To get the sprouts from the stalk, grab the sprout and pull off the stalk.
In windy gardens, it's best to createe a support to help the stalk stay straight.